Technology is a complex beast. It connects us in ways it never has before and has made wild eCommerce dreams a reality, but even with the best technology at our fingertips we still face distraction, procrastination, mounting to-do lists and that overwhelming feeling of not knowing where to start. That's why we've put together this list of the best productivity tools to help keep you on top of every aspect of your life.
1. Evernote
The ultimate software for note-taking, making lists and organising your life, Evernote has been around since 2000 and is one of the most trusted productivity tools on the market. The true beauty of this app is its flexibility – you can use it on your smartphone, tablet or computer, and it syncs automatically across all devices. Capture, organise and find all your data in one place, add to-do's, images, links to remember, and customise it all for a seamless experience. There's even a searchable option so you'll never lose that random 2 am note. The basic version is free, with tiered pricing thereafter.
2. Bee Minder
If you need a little extra motivation to reach your goals, BeeMinder could be just the app for you. It's been around since 2011, helping users visualise their goals and set measurable targets. Your goals can be work or life-related – fitness, less time on social media, investing time on a project with a deadline or learning a new language. Just update your progress, or sync it up with services you probably already use, like Gmail, Fitbit, RunKeeper, Todoist and Trello, and you'll be able to see your progress in a glance. If you go off track you can pledge money to stay on the road, and if you go off track, they'll charge you. Now that's an incentive!
3. Jungle Scout
One of the biggest things to take up space in your brain when you own an eCommerce store is merchandise. Unless you make everything yourself, you probably dedicate a fair amount of time to thinking about what to stock. Jungle Scout can help ease those worries with fast and easy product research to help your retail business stay ahead. You can identify top products for your niche and track their performance on Amazon, save hours on hunting down winning products, and easily view historical data. If you sell on Amazon as well as your own site, it can also help you optimise your listings, track sales and send automated emails. Plans start from $39/month, but you can try it for free first.
4. Sourcify
Sourcify is like a matchmaker for companies and manufacturers. It helps create a stress-free sourcing experience for buyers and procurement teams and helps reduce the risks associated with the manufacturing process by linking you with verified manufactures. Sourcify has a global presence and can oversee your production runs and manage quality control, social responsibility standards, and environmental requirements for you. Pricing is customised depending on production volume, the size of your team and how you will be using our platform to manage your production, but software subscription starts at $299/month.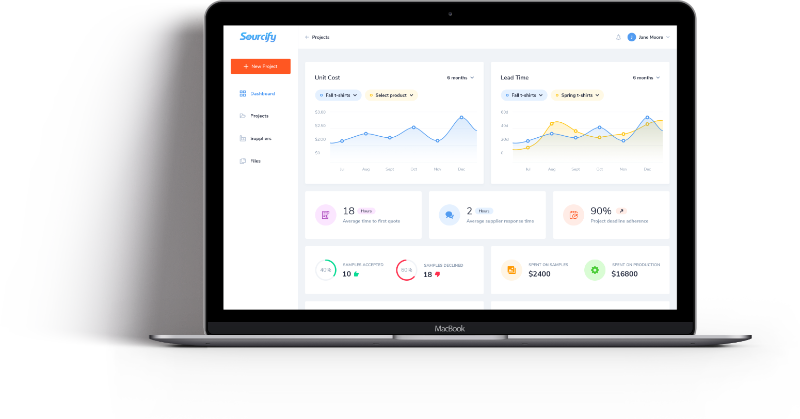 5. Asana
Asana is an easy way to connect your team to track and manage projects. The platform is available on desktop and smartphone and allows for task assignment, scheduling and tracking. Easily upload or link files, discuss the project with your team members, and keep everyone up-to-date with project progress. It's a great option when working with freelancers or outsourcing tasks as it is free for small teams, with an affordable tiered pricing structure for larger teams. With a simple interface and pop-up reminders, it's one of the easiest ways to stay on track and hit your deadlines.
6. Shippit
Organising deliveries can be a real-time suck for eCommerce businesses, so an easy to use shipping platform is a must. Shippit provides a seamless cloud-based solution that can be used by retailers of any size. From start-ups to multiple warehouse and store locations, with multi-user options and the best carriers every time, Shippit makes it simple no matter how complex your shipping needs are. Book, track and ship from anywhere with an award-winning experience that will keep both you and your customer up-to-date through the whole process. Shippit does the hard work for you and takes the complexity out of shipping, saving you time and money while keeping your customers happy. Tiered packages make it an affordable option for even the smallest of businesses, starting at $19 per store/month, with a free trial.
7. MailChimp
There's no doubt about it, retailers need to be in regular contact with customers (and potential customers) via email – but if you don't know what you're doing, email marketing can be daunting. MailChimp is a favourite tool among businesses for email marketing and automation. It's got easy to use templates that you can customise with your own branding, you can segment your marketing lists to target different audiences, and its analytics let you see how well your emails are performing to drive traffic to your eCommerce site. It's also a platform that can grow with you – get started with a basic setup for free, then upgrade as your lists become more sizeable and your needs change.
8. Planoly
If you find Instagram difficult to plan and hard to use, Planoly will change everything. It's one of the very first visual planners for Instagram, which means you can say goodbye to messy spreadsheets and plan beautiful content ahead of time. You can see what your feed will look like, discover user-generated content from your community, schedule content and captions to post directly to Instagram and use analytics to understand your audience. Recent updates mean you can now manage and reply to comments in one place, and plan, arrange and draft your Instagram stories too. And because Planoly is an official Instagram partner, using their services won't put your account in jeopardy. You can get a single-user, single Instagram account plan for free, with services tiered based on accounts and users.
9. RescueTime
Now that we've covered planning your day and sourcing, shipping and marketing your goods, it's time to get real about distractions and make sure you stay on task. RescueTime is a web-based management tool that helps you monitor your time and understand your daily habits so you can set your focus and be more productive. It seamlessly runs in the background of whatever you're doing to provide you with an accurate picture of what your day in front of the computer screen looks like. You can set alerts so you only spend a certain amount of time on particular activities, choose to block distracting websites, see the highlights of what you've accomplished in a day, and get real answers about how much time you spend on email, in meetings and on social media. RescueTime allows you to be intentional with your time without a big outlay – the basic version is free, and premium costs $9/month.
10. Stretchly
With your day organised, your productivity at its best and all your tasks on track, it's important not to forget about your physical and mental wellbeing. Stretchly is a simple to use web-based app that reminds you to take regular breaks when you're using a computer. This free, cross-platform, open-source app reminds you to take 20-second micro-breaks every 10 minutes, and a 5-minute break every 30 minutes. It also offers prompts to stretch, move and be mindful, sprinkling movement throughout your day and helping you to remain invigorated for tasks ahead. You can customise how often you want your breaks, skip them when you're mid-sentence, or pause them for longer periods when you need to focus without interruption.